Choraphor – Herpes and Cold Sore Topical Treatment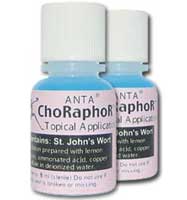 ChoRaphoR™
ChoRaphoR™ offers incredibly fast healing time which makes it ideal
for relieving the pain and discomfort of outbreaks quickly
and effectively. With some medications it can take several days
and sometimes even weeks for the lesions to heal over.
With ChoRaphoR™ healing starts within just hours of the
application, and results can be seen almost instantly.
ChoRaphoR™ is a topically applied skin solution which is thought
to attack the virus at the base of the peripheral nerves. Only ONE application required!