Herpes E-Book
People Talk About….Herpes Book
Order E-Book Volume One Here!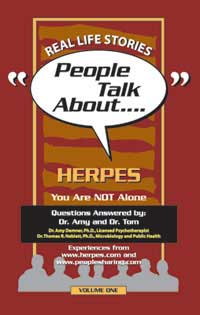 "Real Life Stories"
Questions Answered
by Dr. Amy
and
Dr.Tom

Buy this authentic expression of life with herpes today.
Share these experiences and information.
Use this book as a reference.
You are NOT alone!
---
Learn about dental dams, transmission, asymptomatic shedding, how to tell, and more!

---
Thank you for writing this book. It was a great source of information and very easy to read.
Dianne
Atlanta, GA
This book should be in doctors' offices. It would be a helpful tool for doctors to explain how to live with herpes. I freaked out in the office when I was just diagnosed!
Christine
San Francisco, CA
I have cold sores and I gave my wife genital herpes. We thought it was the end of our sex life! Dr. Amy has helped us so much. My wife and I now have a better sex life than before GH thanks to her suggestions in this book.
Mark
Ottawa, Canada